Home
| | | | |
| --- | --- | --- | --- |
| 5th Peoples' Global Action Gathering in Europe – North Greece / Thrace | | | |
PGA - People's Global Action - started in 1998, it has been a tool and a diffuse structure coordinating groups and people sharing common struggles and practices, in accordance with various anticapitalist and anti-authoritarian principles (see the hallmarks). PGA initiated the Intercontinental caravan in 1999, as well as international action days of actions against the G8, the WTO, the World Bank, the IMF... In Seattle, Genoa, Prague, and in a number of less popular events, PGA was a driving force behind numerous actions and reflections. At the convergence of international initiatives and local struggles, groups close to the PGA are now looking for new drives to challenge stagnation.

In Europe, groups who identify with the PGA principles meet about once every two years, through the initiative of a "convenor" collective. Since 1998, these conferences have been the opportunity for several days of exchanging practices and knowledge, and of establishing bonds, which allow us to be better organized in common actions.


Last update: 04-06-2008 15:23
| | | | |
| --- | --- | --- | --- |
| Protest against state repression towards the anti war militants - Iasi | | | |
Immediately after the Bucharest Nato summit, and after the "correction" applied by the romanian state to those who are against the current security politics and militarism, we managed to organise a protest march.
Around the date of April 15th we started the legal stept necessary to organise a public gathering. At first, we informed the authorities that we intent to go to the streets on April 19th, but we gave up on that day because we would have intersected with some other 2 public gatherings and we didn;t want our path to be cut down. We overcame the small bantering of some public workers and we agreed to give another notice for the date of April 24th.
On April 21st we filed another notice and we were supposed to get an answer from the Mayor on Wednesday, April 23rd. On that day we contacted the person responsible for public gatherings from the technical secretary office of the Mayor who said that our notice hasn't reached the Mayor yet. We were told to try again the following morning. In this case, we asked if issuing a disposition that was favourable to us was only a formality. * the 48 hours provisioned by law 60 from September 1991 had passed, time in which the Mayor was obliged to give, in writing, the reason for not allowing a public gathering to happen.
And if we didn't get any negative answer in the 48 hours, it could have been understood that there is a silent approval. The Mayors answer was unconclusive, they said that the mayors signature is only a formality although the period of time when we could have gotten a negative answer had already passed.
With all this happenings, we were there at the Mayors on the morning of April 24th to take the disposition. Even in this case there was a problem, because of the time we had to announce this gathering, and we were more and more aware of the so called derail, but we still did not get the answer.
Last update: 13-05-2008 15:33
| | | | |
| --- | --- | --- | --- |
| Poster of the next PGA conference | | | |
The 5th gathering of Peoples Global Action in Europe this time will take place in Greece.
A responsibility of organizing and coordinating the discussion that opened in the last meetings of PGA europe has taken by a decentralized network of activists and collectives in Balkans. Thats exactly and the essential advantage of this initiative. The convenor is not a local collective like other conferences in the past but a vital balkan decentralized network.
On the preparation all of these months several questions , problems as well as ideas for taking action are allready mentioned by all of us who involve with a conference here!!! Again in the Balkan region!
We would like to open a long discussion about local activism in combination with a global perspective. In other words we want to discuss about the future of the PGA network and its process as well as the various
projects , topics and ideas for action.
Last update: 19-04-2008 19:22
| | | | |
| --- | --- | --- | --- |
| 5th Peoples' Global Action Gathering in Europe – Athens 20th / 27th of August | | | |
By vlanto, on 14-04-2008 15:55
Views : 464
Favoured : 53


PGA - People's Global Action - started in 1998, it has been a tool and a
diffuse structure coordinating groups and people sharing common struggles
and practices, in accordance with various anticapitalist and
anti-authoritarian principles (see the hallmarks). PGA initiated the
Intercontinental caravan in 1999, as well as international action days of
actions against the G8, the WTO, the World Bank, the IMF... In Seattle,
Genoa, Prague, and in a number of less popular events, PGA was a driving
force behind numerous actions and reflections. At the convergence of
international initiatives and local struggles, groups close to the PGA are
now looking for new drives to challenge stagnation.


Last update: 19-04-2008 19:18
| | | | |
| --- | --- | --- | --- |
| Peoples Global Action inspired newsletter #4 | | | |
By vlanto, on 14-04-2008 15:54
Views : 456
Favoured : 52


At the PGA-conference in Dijon a need for a non-digital communication-tool was mentioned. There was an idea to refresh a printed newsletter. We would like to continue the project with this call. Our aim is to continue using this newsletter as forum of debates, different project, actions and struggles of collectives, related to PGA. The newsletter does not speak in the name of the network, but is inspired by PGA.


Last update: 19-04-2008 04:32
| | | | |
| --- | --- | --- | --- |
| "Autoflagela-mi-ai" - The Romanian Gendarmerie have crossed the senseless line | | | |
By Church Lies, on 10-04-2008 00:09
Views : 639
Favoured : 68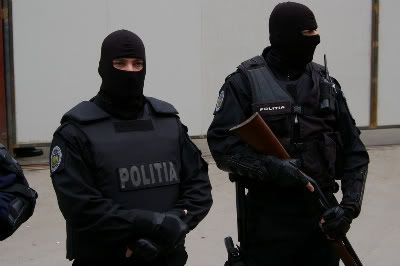 Romanian Gendarmerie contends that anti-NATO anarchists that came out foundering from the police station have "tormented themselves", bumping against the walls.
The representatives of the Romanian Gendarmerie have crossed the senseless line when they claimed that the striplings that came out of the police stations with black eyes and with their faces hurt have "tormented themselves".
"This is the one that has been the most riotous, this moldavian guy who accuses. There are also other stuff, if i may use a pretentious term, it's called self-tormenting. These guys have started bumping against the walls and screaming "Ouch! He's hitting me." But they weren't hit. We picked the men that were starting to make a scandal from the group and we imobilized them quickly, so that they don't spread and so that the others don't start also. And the other started screaming as if they were hit, to mislead to a hectic state. That's when we started to be ferm and to get those out.", Marius Militaru said. Of course, there is no proof that sustains the explanations of the Gendarmerie.
Last update: 10-04-2008 00:09
| | | | |
| --- | --- | --- | --- |
| Romania: Authoritarians Trample On Constitution, Civil Rights | | | |
In preparation for the NATO summit and during the period of the NATO Summit in Bucharest, the Romanian state and Bucharest city government may have violated all or more than the following Romanian Constitutional articles:
1. Article 21 Access to Justice
2. Article 23 Individual Freedom
3. Article 24 Right to legal counsel
4. Article 25 Freedom of movement
5. Article 29 Freedom of conscience
6. Article 30 Freedom of expression
7. Article 39 Freedom of assembly
8. Article 40 Right of association
Last update: 07-04-2008 20:08
| | | | |
| --- | --- | --- | --- |
| Democracy? a mistery for the Vice president of PNL (a romanian political party) | | | |
By Church Lies, on 06-04-2008 03:36
Views : 573
Favoured : 65
According to the Romanian Local Media
"Hasotti about the case of the anarchists: An eventual injustice is better than tolerating a total mess
The vicepresident of PNL , Puiu Hasotti , believes that the intervention of the police on the group of anti –NATO militants from Timpuri Noi hall is oportune , stating that "An eventual injustice is better than tolerating a total mess"
The liberal chief said in a press conference that took place on Thursday in Constanta , that the men of law interfered promptly and prevented some eventual problems that could have appeared during the Nato summit in Bucharest.
"The intervention of the police was a response to the request of the owner, who had been agressed . We have a great responsibility. And maybe, sometimes, in very special cases, it would be better to make an eventual injustice then permitting an obvious disorder " , declared Puiu Hasotti.
He also commented upon the request of PSD who wanted the secretary of state , Cristian David ,to apologise to the young people who were agressed by the forces of opression.
"In the first place, PSD should apologise for the "mineriade" which have thrown Romania 20 years behind and then to request such demands that have no connection with reality" explained the vicepresident of PNL.
Finally, he wanted to specify that the point of view reffering to the intervention on the anarchists is a personal one , and has no connection with the party itself.
Last update: 06-04-2008 03:37
| | | | |
| --- | --- | --- | --- |
| Anti-nato protesters – arrested - mass media | | | |
Not far from the centre of Bucharest, near the Timpuri Noi factory, a group of young people rented a space, but following some misunderstandings with the director of the space, they were forcefully thrown out.
Several policemen that came to verify them have found out that these young people were planning to protest against Nato.
One of the people that observed this incident is a woman. She lives near the rented space.
"They took some young people that were inside. That's all I saw. Nothing else. They threw them inside their two police vans and left. I can't tell you anything else", says a nearby witness.
But one of these young people, Rares, who did not enter the rented space together with his collegues, explained to BBC what they were up to:
"This space was supposed to be a space for criticizing the war, the Nato politics, and for promoting peace. Inside there were supposed to be talks, some workshops, readings and concerts, as far as I know", says Rares.
Last update: 15-05-2008 06:30
| | | | |
| --- | --- | --- | --- |
| Anti-Nato militants, retained from the Timpuri Noi area - mass media | | | |
Tens of masksed policemen have intervened, on Wednesday, at aproximately 14.00 o'clock, to evacuate 46 anti-nato militants from the Timpuri Noi area in Bucharest, where they had rented a building.
The evacuation operation has been executed by camouflaged policemen and workers of the fast intervention police unit, the militants beeing taken to Police stations 10, 11 and 12 in Bucharest.
The Bucharest Police spokesman, commisioner Cristian Ciocan, declared for Mediafax, that 46 persons that were in a rented space in the Timpuri Noi area on Wednesday, have been taken to four police stations in Bucharest for identification, after which they will be released.
12 people have been taken to police station no.23, among which 4 german citizens, a czech citizen, a spanish citizen and six romanian citizens, and 13 persons have been taken to police station no.12, among which four german citizens, a czech citizen, a moldavian citizen and seven romanians of which one was a romanian citizen with residence in Holland.
Also, 11 people have been taken to police station no.10, among which 8 germans, a portuguese and two romanian, and 16 people were taken to police station no.11, a polish citizen, 6 germans, 5 romanians and four swiss citizens.
"The four swiss citizens taken to police station no.11 have been retained before the incident from the Timpuri Noi area, for identification", commisioner Christian Ciocan stated.
Last update: 06-04-2008 02:12
| | | | |
| --- | --- | --- | --- |
| NATO Summit 2008 - freedom of expression abused | | | |
By Church Lies, on 05-04-2008 23:42
Views : 621
Favoured : 61
Two romanian journalists, wanted to test the freedom of expression and their constitutional rights during NATO Summit in Bucharest. They simply decided to wear on their back a piece of paper with the message "No NATO -- No WAR". In some minutes they were stopped, checked and arrested. The piece of paper was confiscated by the police.
Last update: 05-04-2008 23:50
| | | | |
| --- | --- | --- | --- |
| Video with Police Abuse part 3 | | | |
By Church Lies, on 05-04-2008 23:32
Views : 610
Favoured : 66
Last update: 05-04-2008 23:38
<< Start
< Prev
1
2
3
4
5
Next >
End >>
Results 1 - 12 of 51