Home
| | | | |
| --- | --- | --- | --- |
| Video with Police Abuse part 2 | | | |
Written by admin
Thursday, 03 April 2008
Some of the videos ... will try to update as often as possible
Read more...
| | | | |
| --- | --- | --- | --- |
| Flooding on Contra-Doxa and SummitNato | | | |
Written by admin
Thursday, 03 April 2008
Starting the day of 1st of april the sites contra-doxa.com and www.summitnato.ro are a continous attack from diffrent ip's.
We will try to keep the sites up as much as possible.
The sites aren't canceled they are just flooded using a D-DOS attack.
whoever can offer us a better hosting ... let us know using this email: This e-mail address is being protected from spam bots, you need JavaScript enabled to view it
we will post updates as fast as possible
Last Updated ( Thursday, 03 April 2008 )
Read more...
| | | | |
| --- | --- | --- | --- |
| Scrisoarea deschisa pentru oamenii obisnuiti din Romania | | | |
Written by some translator
Monday, 31 March 2008
in atentia presei din ROMANIA
"
Scrisoarea deschisa pentru oamenii obisnuiti din Romania
Ne vom vedea pe strazile din Bucuresti: Promisiunea e promisiune!
Scrisoarea deschisa pentru oamenii obisnuiti din Romania, de niste anarhisti din Berlin
Aici in Berlin am auzit in ultimele zile ca din anumite motive cativa oameni isteti din Romania de la putere incearca sa creeze un antagonism intre oamenii obisnuiti si anarhisti lansand zvonuri despre sosirea "autobuzului cu anarhisti din Berlin" la Bucuresti pentru protestele anti-NATO. Acesta fiind un fapt, noi, anarhistii din Berlin, am dori sa confirmam informatia despre sosirea din partile acestea, dar ceea ce este mai important este sa explicam motivatiile noastre de dincolo de a vizita Bucurestiul la inceputul lui aprilie oamenilor din Romania. Pentru inceput trebuie sa admitem ca suntem foarte bucurosi ca autoritatile romane si media corporata au recunoscut anarhistii ca seriosi oponenti ai celor ce duc razboaiele NATO. Da, noi ca anarhisti, ca oameni ce se opun oricarei forme de putere asupra oamenilor, ce se opun oricaror relatii sociale autoritariene si oricarei forme de exploatare si constrangere, ne opunem in mod consecvent institutiilor armatei, industriei armelor si in general militarismului din lume. Asta pentru ca unul dintre principiile centrale ale filosofiei sociale anarhiste este COOPERAREA si AJUTORUL RECIPROC intre oameni. Militarismul se bazeaza pe ceva cu totul opus. De asemenea, nu suntem atat de naivi sa credem ca vreo structura sau infrastructura militarista au ceva in comun cu crearea pacii pe pamant. Din contra: stim ca puterea si interesele economice sunt ascunse in spatele infinitei militarizari a lumii; stim ca producerea armelor este o afacere grozava si ca are nevoie de razboaie sa se intample din cand in cand pentru ca afacerea sa continue. In sfarsit, NATO este una dintre institutiile centrale care face aceasta nebunie sa continue. De aceea anarhistii se vor opune intotdeauna si se vor confrunta in mod activ cu cei care duc razboaiele NATO.
Last Updated ( Monday, 31 March 2008 )
Read more...
| | | | |
| --- | --- | --- | --- |
| The open letter to common people of Romania | | | |
Written by some Berlin anarchists
Monday, 31 March 2008
We will see you on the streets of Bucharest: Promised is promised!
The open letter to common people of Romania by some Berlin anarchists
Here in Berlin we have heard last days that for some reasons some clever people sitting at the power position in Romania are trying to antagonise the common Romanian people and the anarchists by spreading rumours about an arrival of the "bus with Berlin anarchists" to Bucharest for the anti-NATO protests. If this is a fact, we, anarchists from Berlin, would like to confirm the information about the arrival from our side, but what is much more important, is to explain our motivations behind visiting Bucharest at the beginning of April to the people in Romania. At first we have to admit that we are very glad that the Romanian authorities and corporate media recognised anarchists as serious opponents of the war-makers from NATO. Yes, we, as anarchists, as people opposing any sort of power over the people, opposing any authoritarian social relations, opposing any sort of exploitation and compulsion, we are consequently opposing the institutions of army, we oppose the weapon industry, and generally, the militarization of the world. Thus because one of the central principles of anarchist social philosophy is COOPERATION and MUTUAL AID between the people. Militarism stays for something completely opposite to it. As well, we are not so naive to believe that any militaristic structure and infrastructure have anything to do with creating the peace on this planet. Quite an opposite: we know what power and economical interests are hidden behind never ending militarization of the world; we know that producing weapons is a great business, and that this needs the wars to happen from time to time so that this business can continue. Finally, NATO is one of the central institutions to keep this madness going on. That is why anarchists will always oppose and actively confront the NATO-War-Makers.
Last Updated ( Monday, 31 March 2008 )
Read more...
| | | | |
| --- | --- | --- | --- |
| Pictures from the Bulgarian - Romanian Border | | | |
| | | | |
| --- | --- | --- | --- |
| NO BORDERS CAMP - Ruse (Bulgaria)-Giurgiu (Romania) | | | |
Written by admin
Tuesday, 25 March 2008

Today 25.03.2008 the same six persons that tried to enter Romania a couple of days ago, have retried to do it without having anti Nato material, and anti - violence material (quoting the representative from the border police). After 2 hours of being searched again and again, the police deported them by force again even if they had no reasons to do it (yes in violations again of many things, any surprise there?).
Read more...
| | | | |
| --- | --- | --- | --- |
| Report from the serbian border | | | |
Written by admin
Tuesday, 25 March 2008
today around 12.15 we arrived at the serbian border near the town dimitrovgrad.we were not surprised to be called out of the bus together with another woman from iraque but with swedish passport,because we had our experience with the serbian border last time where the border control made some of us take off their clothes until the underwear and was checking for something quite badly on the breasts and even part of in the underwear.they took us out from the bus and started to look in all our stuff in the bags.they found some patches,stickers and papers,which they first had to take to their boss what took them quite a long time in which we could hear the telephone ring tone of one of the border control which contained obviously a part of a speech of hitler where he called the germans 1941 to the war.after around one hour checking our stuff and investigating us about where we have been we got told that we were not allowed to enter serbia with the first explanation that it was forbidden to enter with our stuff.
Read more...
Written by admin
Monday, 24 March 2008
Today 2 of the people that were stopped at the Romanian Border are denied the right to leave Bulgaria.
After deciding to return to Germany 2 of the group that were retained at the Romanian Border got into a tourist bus with the destination Germany. At the serbian border they were taken out of the bus and sent back to Bulgaria. How can anybody ... any country deny the right of anyone's right of returning home?
If we were surprised by the Romanian decision of refusing to allow 6 people into Romania just beacause of having anti nato flyers, patches and posters cause it was in violation with human rights, it came to us as a shock to see that this is not something so surprising in this fascist Europe.
Last Updated ( Monday, 24 March 2008 )
Read more...
| | | | |
| --- | --- | --- | --- |
| Anti-NATO summit Bucharest: The attempt to harass international protest | | | |
Written by admin
Sunday, 23 March 2008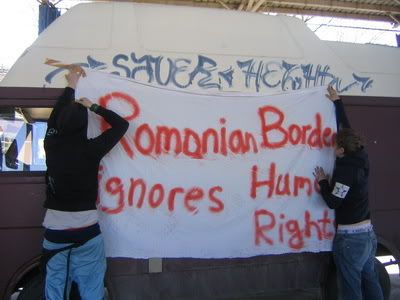 We arrived on March the 20th at about 8 o'clock in the evening at the Romanian border in Calafat. The border police ordered us to park our two cars beside and started to search them completely for four hours, looking after drugs, weapons and explosives as they said. We had none of that with us but they took all our info material, including books, pamphlets, posters and even patches, buttons and t-shirts away to copy, photograph and document them. Furthermore they took away our laptops for about ten hours, one of them got obviously opened, some screws were missing. Two women got body searched for injection marks. It was obvious that they were looking for a reason to send us back. At three o'clock in the morning they started to interrogate us one by one. The interrogations where made by two guys (one leading interrogator probably named Mr. Zagrabu) from the secret service (SRI) and a translator for English. They where lying about certain laws (not connected to the anti-NATO summit, or political activism), we might have broken, to have a reason for the start of the interrogation and by this as well trying to spread some panic. But soon coming to the point of political activism and the upcoming NATO summit in Bucharest. They where pretty obvious in their aim all along. Our refusals to answer questions, making return questions and claiming for legal support, wasn't really expected by them. After trying it over and over again, playing the nice cop and the bad one, or trying to split us up, by offering some of us that they could leave without the others immediately (without any cooperation from our side), they gave up after three interrogations.
Read more...
| | | | |
| --- | --- | --- | --- |
| Pictures and Video from the romanian border violations | | | |
Written by admin
Sunday, 23 March 2008
- preparing little protest after 15hrs detention on the 21st of March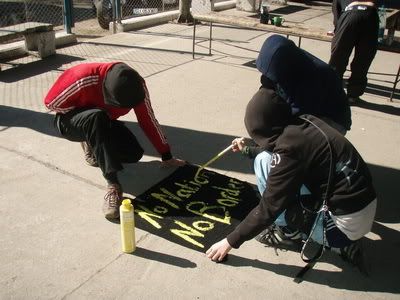 - Little Protest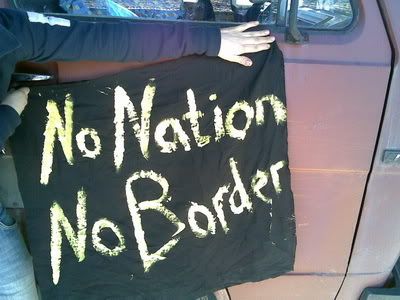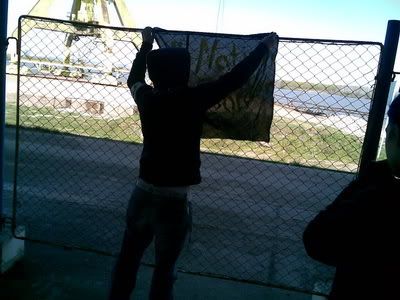 Last Updated ( Sunday, 23 March 2008 )
Read more...
| | | | |
| --- | --- | --- | --- |
| Warning for all the people that want to cross in Romania | | | |
Written by admin
Saturday, 22 March 2008
After the experience of yesterday , all the people that what to cross the border now should keep in mind that the border police ( Romania authorities) will look for the smallest and most ridiculous reason not to let them cross the border in Romania. Since weeks ago media is creating a false imagine of anarchists that will come in Romania and starts violent riots, just to give an excuse for the police repression.
So for your security we advice you not to take with you: drugs, weapons (that could also mean pepper sprays although they are legal in Romania but they could also can be bought in Romania, cheap-3 euro), info material (we don't know exactly what kind of materials they are looking for, but for sure anti-nato, ant-globalization…), or any kind objects that you think could be a potential reason of trouble.
Think about where you want to cross the border.
Last Updated ( Sunday, 23 March 2008 )
Read more...
<< Start
< Prev
1
2
3
4
5
Next >
End >>
Results 25 - 36 of 58